kalama
Master Member KnifeNut!
02-21-12 09:06.32 - Post#

2445260



sorry no pics,,but i took my c3 skinner an southerncross hunter out to test,need i say i am very impressed with the two knives,thursday an friday i did some bushcrafting with both knives,battoning,carving, firecraft,on hard an soft wood,just using the knives for any an all task i could think of,an i did not want to sharpen them for i was going hunting saturday,that would be the big test for edge retention..on saturday me an my crew got five hogs three boars two sows,i field dress all five,,butchered an deboned every one with these two blades,an it was a joy to use,they held there edge very well do i dare say better then my D2 blades made by a well known maker in arkansas,,,yes i will,,just my opinion..handles are great,they just feel like an extension of my hand ..cant wait for my new butcher/bonning blade to come in..sharpening was easier an faster then my D2 an 3G steel,an i think its a better steel then my A2,D2,1095,L6,5160,52-100 ,an 3G steel an many other steels i tried over the years,in edge holding an toughness..the more i use this knives the more respect i have for the steel an the maker..after my butcher blade,i need a hog hunting knife 6 1/2 to 7 inch blade that would make my set-up complete,well maybe a big bowie,i wish i took pics but my camera on my droid phone is down,,an i have no camera,well next time.i am quickly becoming a fan of this steel an maker.aloha

just found these two pics on my photobucket..top is the southerncross hunter,bottom is the skinner.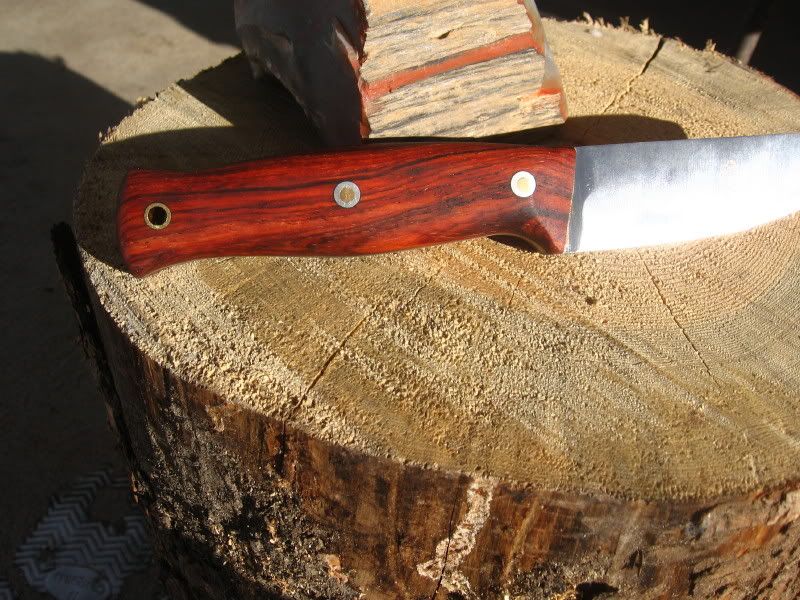 cody keep up the great work brother,you make one hell of a user...